Farm holiday on the Haslinggut
Tradition and modern day in the Gasteinertal Valley
---
The Haslinggut in Dorfgastein is about 350 years old and is fully renovated – today, our farm resembles a traditional farm in the Pongau district, yet is fitted will all the modern-day comforts and latest technology.
Our farm is organic and offers stunning views of the beautiful Gasteinertal. It is the perfect place to relax and unwind. Guests can choose from four cosy and fully equipped holiday apartments. Come and visit us in the Haslinggut and enjoy a farm holiday in unspoilt nature in the Gasteinertal.
We look forward to seeing you!
Elfi and Michael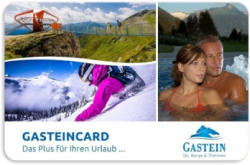 Gastein Card
Benefit from many offers and reductions with the free Gastein Card – further information available in the brochure in your apartment.
Wohnen
Holiday Apartments
---
Guests can choose from four 60 m2 apartments, which have all been recently renovated and are fitted with light solid wood and every comfort. Two bedrooms and a cosy lounge area offer room for up to 5 people.
Enjoy marvellous views of the impressive Gastein mountains from the balcony. 
---
The Gasteinertal is the perfect place for a holiday and the ideal base for exploring the area.
Gastein is well known as a sports destination in both the summer and winter. The resort and the Gasteinertal valley also offer many natural spectacles and sights.
Numerous mountain lifts, thermal baths, lakes, ravines and much more in the region guarantee everyone has something to enjoy for the entirety of your stay. 
Our guests receive the free GASTEIN CARD, which offers free entry or up to 50% reduction on many attractions in the Gasteinertal – for example, guided ski tours or snowshoe hikes on your winter holiday or summer concerts and guided bike tours through beautiful landscapes on your summer holiday. The varied spa and health facilities can be enjoyed at any time of the year – relax in the Gasteiner Thermen, Gasteiner Dunstbad or Gasteiner Heilstollen spa and health centres at reduced entry.
There are also many interesting things to see and do in the area around the Gasteinertal valley, such as Mozart's home town of Salzburg, which is so near that it can easily be visited in a day.